How To Make A Space Saving Christmas Tree
Obviously as a Christmas tree delivery company, we LOVE Christmas trees, but understand that not everyone has the space for one. 
Real trees are about half as wide as they are tall, so you can expect a 6ft tall tree to be approximately 3ft wide. You could opt for a fraser fir which is slightly slimmer in shape, or perhaps a mini tree, but one other alternative is to create your very own wall mounted Christmas tree using real foliage.
Here at Christmastrees.co.uk, we're going to show you how!
Here's what you'll need
Tools
Staple Gun — we will use this to attach our foliage to our pieces of wood
Staples — what use is a staple gun without staples?!
Shears — we will need this to trim the branches from our foliage to our desired size.
Saw — The saw is required to cut the planks of wood to our required size.
Materials
Wood — we will use this to attach the foliage to, and fixate it to the wall for our tree. We have used pine wood measuring 6cm in width, you should be able to find this at most types of hardware stores.
Foliage — we've used Noble Fir foliage, which can usually be obtained from a florist, but you can use other foliage such as a Nordmann Fir, or even find an ugly or undesirable Christmas tree and cut that up. For our tree we used approximately 10 to 12 branches of varying sizes.
Command Strips — these are used to attach our planks of wood to the wall. We've used 2 multi packs of command strips each containing 8 pairs of large and 4 pairs of medium strips. These can be found on Amazon here. According to the Command Strips, they can be removed cleanly with no nail holes, cracked plaster or sticky residue. We tested it on our wall and it came off without removing any paint or leaving any marks, but please test it on your own wall first, and don't use it on a wallpapered wall.
Lights and decorations — lights and decorations are optional, but no tree is complete without a topper! We've used handmade decorations from @heartfelt_decors, and battery powered mini lights with 100 LEDs measuring 5 metres in length.
Step 1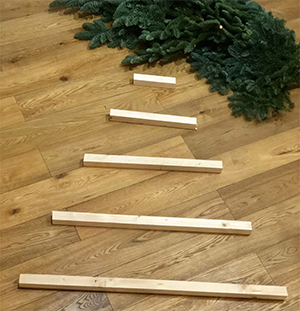 Carefully saw your wood into 5 pieces, measuring 1 metre, 80cm, 60cm, 40cm, and 20cm in length.
Step 2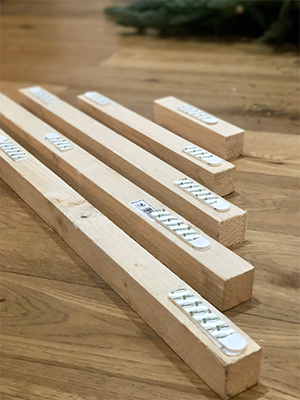 One on side of the wood firmly attach each of the command strips (don't peel the sticky side that will be added to the wall yet). The two longer pieces of wood will require 6 pairs of command strips each.
Step 3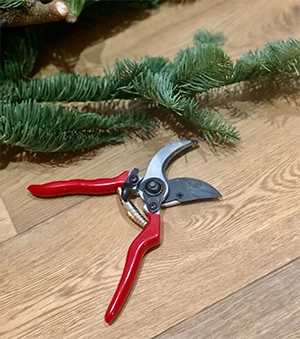 Using the shears carefully cut your foliage from the branches into smaller pieces.
Step 4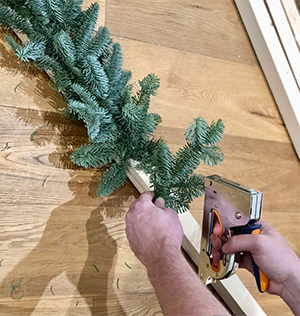 Use the staple gun to staple the foliage you've cut up onto the piece of wood, continue until it is fully covered on one side. Repeat this process for all the pieces of wood.  
Step 5
Lay your tree out on the floor to make sure you are happy with how it looks, add more foliage to areas you think may be a bit thin, and prune or cut any areas to ensure it is symmetrical and evenly covered.
When it's on the floor you can also get an idea of the ideal spacing you want between each of the 'branches' of your tree. The spacing on our tree is approximately 15cm's between each.
Step 6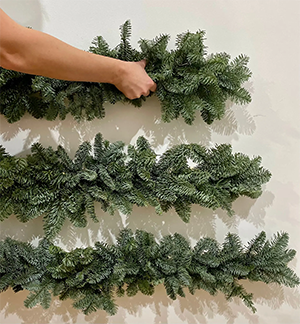 Peel off the command strips from the reverse side of your 'branches' and begin attaching them to your wall. Starting with the largest branch at the bottom. Make sure to keep the pieces of wood even (you don't want a wonky tree!), and space them out evenly on your wall.
Step 7
Once complete your tree should look something like this!
Step 8 (optional)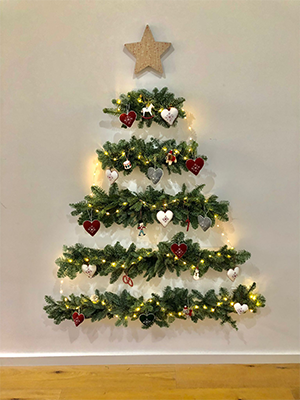 Add your Christmas lights and decorations, and there you have it, your own space saving, wall mounted Christmas tree, made with real foliage!